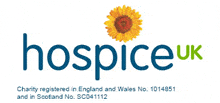 Our work with Hospice UK
For people with a life limiting or terminal illness - it's important to ensure that their quality of life remains as high as possible. Hospices throughout the UK are set up to do just that. They support people across the country who need treatments, medication and emotional support to make their last days comfortable and peaceful.
UK hospices care for over 120,000 people and their families each year. To maintain that support, they need on average £9,000 a day. That's why Clydesdale Bank has chosen Hospice UK as its charity partner and has been supporting the charity for the past nine years. In that time, the Bank has raised over £5 million for hospice care, helping thousands of people around the country in their final days.
The partnership set up allows local branches to participate in the community with their linked hospice. As well as the money raised to support the hospices locally, staff have volunteered over 35,000 hours towards the cause.
Helping where it matters
In nine years together, we have raised over £5 million for hospice care. The structure of our partnership offers employees the opportunity to support hospice care both nationally and in their local community too. Each of our locations is twinned with a nearby hospice. This enables our employees to support palliative care nationally as well as see the direct impact of their support where they live and work. Our partnership really embodies our motto, We Care About Here.
Local hospices also rely heavily on support through volunteering. More than 125,000 volunteers support the hospice care sector each year and through our partnership colleagues have dedicated more than 35,000 volunteering hours for their local hospices.
Caring because it matters
The money and the time contributed by Clydesdale Bank makes a huge difference to the work of hospices across the country. To find out more about the impact of the Bank's work, please visit www.hospiceuk.org