Employee engagement
As an organisation we like to be involved in our local community and believe it is important that our employees support these communities and participate in charitable work.
Inside and out of work
We actively promote volunteering opportunities to our employees, encouraging them to volunteer during bank hours as well as in their own personal time. Every employee can take two days paid leave to volunteer on a Bank led volunteer activity which helps to strengthen the communities in which we operate. Our employees get involved in a number of initiatives including:
Team challenges such as beach clean ups which are arranged through organisations such as Scottish Business in the Community. Find out more about how we get involved in the community.
Presentations to schools arranged through the Financial Education Partnership run by the Chartered Institute of Bankers in Scotland.
Sharing of skills and memberships of charity boards arranged through the Skills and Board Bank with Arts & Business Scotland
Supporting schoolchildren improve their reading and numeracy skills through the Number Partners and Paired Reading programmes run by Scottish Business in the Community. Find out more about our Count Me In programme.
Mentoring young people through the Career Ready programme.
Click here for some examples of how our employees get involved in their local community (PDF, opens in a new window).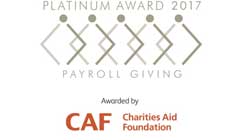 Giving at source
We also recognise that many of our employees volunteer in their own time to support their local community. Our Employee Volunteer Grant Programme rewards and recognises the personal contribution of employees by providing grants to the charitable organisations with which they work. Grants of up to £500 are awarded quarterly.

We run a Payroll Giving scheme that allows employees to make voluntary donations every month direct from their salary to a variety of causes close to their hearts. To date some 20% of our employees are donating to charities and for the third consecutive year, we have been awarded H M Platinum Quality Mark for Payroll Giving. Employees who choose to donate to the bank's charity partner will have their donation matched £ for £ by the bank.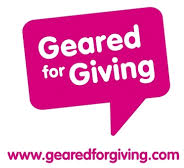 Geared for Giving campaign
We are delighted to be part of the Geared for Giving campaign which encourages employers, across the UK, to introduce and promote a payroll giving scheme, also known as Give as You Earn or Workplace Giving.

Being Geared for Giving is all about giving to good causes at work, direct from your salary. Any charity, any cause. Your chosen charity receives your donation tax free.

We are among the hundreds of enlightened employers who have joined the campaign so far and we would encourage all of you to do so.