Keeping people connected in the Health and Social Care sector
< back to all business news articles
24/07/2020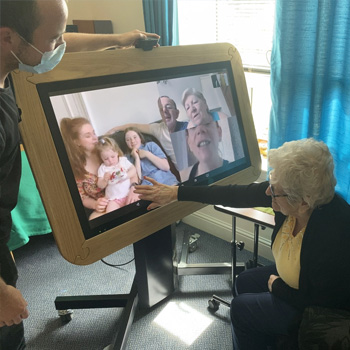 With lockdown restrictions easing across the UK, shops and restaurants starting to re-open and a sense of some sort of normality resuming, the impact of Covid-19 still remains. Over the past few months technology has played a key part in keeping people connected. People who never expected, and perhaps, never wanted to use digital technology to communicate have had to adapt either to keep their business going or to keep in contact with their family and friends. From posting photos on social media to attending online webinars, laptops, mobile devices and tablets have been a lifesaver for many.
One of the most impacted sectors during Covid19 has been the Health and Social Care sector, with most care homes across the UK having been in lockdown since March and many only just being able to accept visitors again in some areas. Technology has played a key role in keeping residents connected with the outside world, where for most, a visit from their families, activity providers and the local community are highlights of their week and an integral part of daily life in a care home.
Many homes have been using video calling technology and posting to social media to enable contact with family and friends. As well as allowing residents a window into the outside world, it is also a good way to provide reassurance to relatives who have entrusted the care of their loved ones to others.
We spoke to one of our customers, Avondale Care Ltd, to find out how, in the absence of face to face contact, they are keeping their residents and staff connected.
Adrian Hendry, Director at Avondale Care Ltd says:
"As a Company we have always invested in technology, including WiFi throughout our homes. Just before lockdown we invested in a Giant Pad, and during this difficult time it's been invaluable due to its large screen and portability. Residents have been able to book slots to Skype their loved ones which has helped to reassure relatives that that they are being looked after and keeping in good spirits. It has helped residents too, providing the next best thing to physical contact"
As well as keeping residents connected it's also important to keep staff connected as well. Guidelines have been changing almost daily at times and it's been imperative that the latest information can be communicated quickly.
Adrian continues:
"It has been vital that we keep our staff informed of various resources available, especially from a mental health perspective, and to provide them with a link to key members of our team to discuss any issues they may have and offer support where we can. The staff have been fantastic and through our various software packages we have been able to keep spirits high and support each other through this pandemic."
Derek Breingan, Head of Health and Social Care sector at Clydesdale and Yorkshire Bank added:
"The sector generally has been slow to adopt technology over the years and, whilst we were evidencing this changing, the pandemic has led to an increased pace and desire to utilise new methods of communication and social connectivity. It is great to see customers like Adrian embracing this and witnessing the significant wellbeing created. "