Why you need to include Instagram in your social media marketing mix
< back to all business news articles
14/05/2019
Instagram is one of the most widely used social media platforms… by big business. Trends have shown that small business owners are slower to jump on the Instawagon – mainly because they view their Facebook page as sufficient.
Instagram is one of the most powerful ways for any business owner to increase visibility of their product and get their brand more widely recognised. Why? Because they have over 800,000 million active users. And when it comes to a customer pie, that's too big a slice to ignore.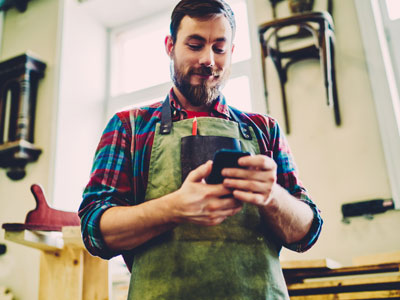 Shoppable posts
Essentially, what this means is the ability of your business to make money directly from Instagram. The concept of 'shoppable posts' is the digital version of product placement. Business owners can add tags to the products in their photos with links that include a product description, price and the ability to 'shop now', which will lead the user to the business's online store.
This means your business has the ability to generate actual sales from Instagram, especially when you consider that over 72% of Instagram users have reported making purchases in this way. That's a statistic that's too important to ignore!
The power of storytelling
The story of your business is a key element when you develop your brand story. And there's no better way to tell it than visually, especially in this digital age. This is where Instagram really stands out from other social media platforms, because you can really make an impression with live posts and stories.
You can include behind-the-scenes insights into your business and your employees. Or you can demonstrate how products are made, and live Q&A sessions between you and your audience.
This is how you show potential customers the personal, relatable side of your business. Social media is most effective as a marketing tool because it personalises your business, and Instagram is the best platform to achieve that.
Engage with your customers
Following on from the above point, Instagram is a great way to create dialogue between you and your customers, and on a daily basis. The more connected people feel to a business, the more likely they are to buy from them.
Not only that, but for every customer who's completed a purchase from you, there are several more who've been tagged into what they bought, and who from. Instagram is one of the best ways to achieve the 'snowball effect' – and this will not only increase your online visibility, it'll grow your customer base exponentially.
Flexibility and mobility
Smartphones are becoming so smart that some small businesses are run entirely from them! Instagram was designed from the very beginning as a mobile app, because they understood even then that the majority of people's time on their smartphones would be using apps.
Your business needs to take advantage of this, so that your posts are able to be viewed by potential customers wherever they go. Smartphone users prefer Instagram because it has a cleaner style than the cluttered Facebook view, and with engagement on Instagram being 10 times higher than on Facebook, you will want to get on the bandwagon.
Summary
Next steps