Counting in the community
We want to make a positive impact in the local communities where we 're based and we realise that to do this we often need to work with other organisations to help achieve this. We want to help people manage their money, improve their environment and help them prepare for employment. We work with our partners to try and address these priorities. One of our partners is Glasgow Life who helps deliver our Count Me In programme.
Count Me In 123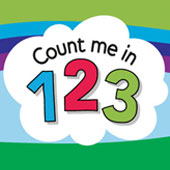 Count Me In 123 is a community-based project which focuses on numeracy and targets pre-school children. It uses books and games to animate the learning process and strengthen mathematical concepts through story and rhyme. Accessed through libraries in partnership with pre-5 establishments, Glasgow parents and carers can take advantage of well-stocked 'Count Me In 123' learning bags which have been created for three specific age groups - under one year olds, two to three year olds and four to five year olds.
An online version of Count Me In 123 is also available. Planned in line with the Curriculum for Excellence, the colourful and engaging resources focus on the key areas of number recognition, shapes and pattern, size and measurement and counting.
Access the online Count Me In 123 resources here.
Count Me In Primary
Count Me In Primary is aimed at children aged 5 to 11 years and can be accessed through Glasgow Libraries via its 'Schools Library Outreach Service'. Consisting of three learning bags specifically created for Primary school age children they help pupils build their numeracy skills.