Clydesdale and Yorkshire Bank confirmed as participant in RBS switching scheme
< back to all business news articles
19/12/2018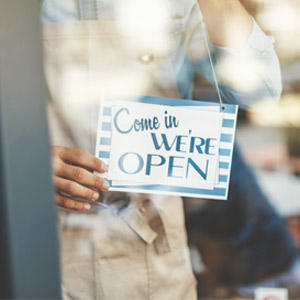 We are pleased to announce today that Clydesdale and Yorkshire Bank has been confirmed as one of the eligible banks able to participate in the Incentivised Switching Scheme due to launch in February 2019.
The scheme is one aspect of the RBS Alternative Remedies Package – an initiative designed to increase competition within the UK SME banking market.
Taking place over a period of 18 months, eligible RBS customers (who had previously been identified by RBS as Williams & Glyn customers) will be encouraged to find a new business banking provider, by choosing from a list of challenger banks, including Clydesdale and Yorkshire Bank.
In response to the official announcement from Banking Competition Remedies Ltd (BCR), our CEO, David Duffy said today: "We're pleased Yorkshire Bank and Clydesdale Bank will be participating in the Incentivised Switching Scheme.
"As the UK's leading SME challenger bank, we've invested £12 million in preparing for the switching scheme so we can offer a smooth transition for Williams & Glyn customers leaving RBS, and we now have a great opportunity to offer an exciting new home for thousands of Williams & Glyn customers when the scheme opens next February.
"SMEs will be at the heart of the UK's future economic growth and it is vital there is a vibrant and competitive banking market helping SMEs realise their future growth plans."
At Clydesdale and Yorkshire Banks, we understand the importance of SMEs to the UK economy and appreciate their crucial role in driving job creation, innovation and prosperity.
We have a proven track record in providing proactive support to SME customers to help them manage operations, scale up and thrive.
With a suite of tailored products and services available to business customers, as well as a broad range of sector specialisms and other unique propositions, we have the fundamentals in place to provide a leading SME banking service to those customers who will make the switch from RBS.
We look forward to playing an active role in the Switching Scheme over the next 18 months, as well as fulfilling our commitment to lend the UK's smaller firms £6 billion in the three years to 2019.
For the full announcement from the BCR, please follow the link below:
https://bcr-ltd.com/wp-content/uploads/2018/12/ISS-19-December-2018_final.pdf