Funding for new Evesham care home
< back to all business news articles
15/08/2017
Majesticare, a care home operator, will open its second five-star facility in Worcestershire after receiving a multi-million pound finance package from Clydesdale and Yorkshire Banks. The £5.6million investment will support the development of a new 67 bed care home in Evesham – Majesticare's second in the region and eighth in the Group.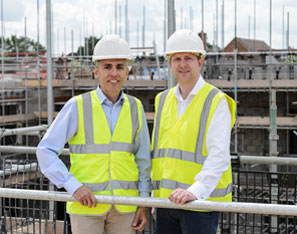 Five-star facilities
The new facility at Cavendish House will create more than 100 jobs and offer the highest standard of care for residents. Facilities will include boutique hotel style interior design, café bistro, cinema, hair and beauty salons and landscaped gardens.
Majesticare has been operating in the UK for 17 years and has a high quality portfolio of care homes. Work on the new care home, in Evesham, is due to be completed in spring 2018.
A big boost to the local area
Roger Pratap, Chairman of Majesticare, said: "We are committed to expanding our care home portfolio and are looking forward to opening our second facility in Worcestershire. Evesham is an ideal location and our five star facilities will contribute significantly to the local area.
"We have been working with Clydesdale and Yorkshire Banks Health and Social Care team for more than three years and we find their approach to lending in the care home sector second to none. We appreciate their support with this project and we are already in discussions about our future plans."
Graham Harper, Health and Social Care Director at Clydesdale and Yorkshire Banks, said: "This is the second Majesticare development we have been involved in and the team's vision for this care home will ensure the facility is state-of-the-art. We are pleased to be able to support the business as it continues to grow and succeed, bringing considerable employment to the local area along the way."