Clydesdale Bank reaffirms support for the Scottish Food & Drink Industry
< back to all business news articles
26/09/2019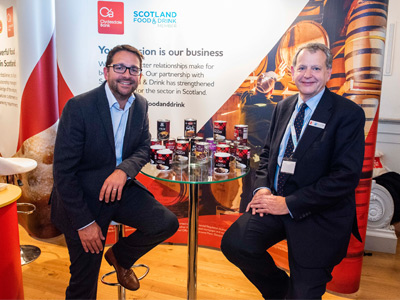 Earlier this month, the annual Scotland Food & Drink conference took place at the Assembly Rooms in Edinburgh, with over 400 businesses and stakeholders attending from the food and drink sector in Scotland. Clydesdale Bank was proud to be the headline sponsor for the event.
The theme of the conference this year was based around how companies in the sector could build stronger brands through storytelling.
With reference to famous campaigns and stories from iconic Scottish brands like Irn Bru and Johnnie Walker, businesses shared their own accounts of how they were able to build messaging that brought them customers and grew their stature in the market.
Whilst there was inevitable talk of Brexit, great products backed by strong branding, underpinned with Scottish provenance, were the main source of focus.
Agriculture, in conjunction with the wider food & drink sector, is a key part of supporting business customers at Clydesdale Bank. With a proven track record of supporting the sector and linking the primary producers to the food & drink economy for over a century, it's fitting we continue to sponsor Scotland Food & Drink's headline event - their annual conference.
Speaking about the event, Brian Richardson, Head of Agriculture at Clydesdale Bank, said: "Whilst there is some uncertainty at the moment around Brexit, the focus was very much on looking forward and building on the success of the food and drink sector, which is now worth almost £15 billion to the Scottish economy – a gigantic figure.
"We are proud to continue to very proactively support the food, drink and agriculture sectors with lending over the last year across the UK, with over half our lending in these sectors North of the Border."
"This truly demonstrates our commitment to the sector alongside the wider Scottish economy. It is a part of the economy that excels and there is a strong spirit of entrepreneurship and pride associated with the businesses and individuals who operate in the sector.
"We are pleased to work closely with James Withers and his team at Scotland Food & Drink in supporting and promoting this success story. The organisation trumpets all that is good about Scottish Food and drink across the world, as well as providing ongoing support to it member businesses."
As well as speakers from the food and drink sector, Fergus Ewing, the Scottish Government's Cabinet Secretary for the Rural Economy, congratulated those present for the work done in the food and drink sector and highlighted its importance as part of the wider Scottish economy.
Alongside the conference, we've produced a short report on why successful food and drink brands aren't short stories. This focuses on the importance of hooking an audience, adjusting to market dynamics and being compelling to customers. Find out more in attached report, which includes examples from some of our customers.
Timeless Classics: Why Successful Food and Drink Brands Aren't Short Stories (PDF, opens in a new window)