Making the most of digital marketing to grow sales
< back to all business news articles
14/05/2019
If you want people to be able to easily find your business, then having a clear digital marketing strategy in place is essential. Otherwise potential customers won't know you exist, and your business growth will stagnate. There's no secret to it – a huge majority of consumerism takes place online these days. To really drive sales, your business needs to develop and then make the most of its digital potential. Remember – when it comes to the internet, the world really is your oyster. It's one giant, global marketplace.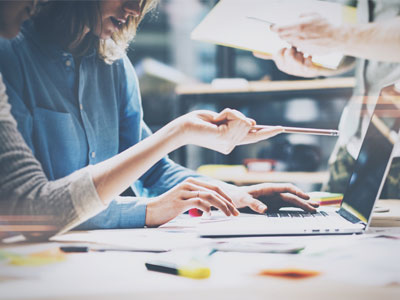 Getting the basics right
There are some fundamental aspects of a digital strategy that are important to get right straight out of the gate. If you don't have someone in-house who can review, overhaul or re-implement this strategy, bite the bullet and pay for a professional – it's an investment that will pay off.
A clear, easy-to-navigate and mobile-friendly website is the most important cog in the digital wheel. At all costs, make sure it doesn't look like an online brochure. It should clearly lay out who you are, what you're selling, and how to contact you.
It's really worth investing in a professional to get your website set up. They'll ensure good Search Engine Optimisation (SEO) to help you become one of the top results in a Google search. Keep the site updated with fresh, dynamic content such as case studies, customer testimonials, infographics and blogs.
The importance of social media
Social media allows you to communicate with a large number of people in a short space of time, with a few taps on the keyboard or your phone. Making sure you're aware of the latest social media trends means you'll increase your customer engagement.
With over two billion active social media users worldwide, you can be pretty certain that your target audience is among them somewhere. By connecting with those potential customers the way they want to be communicated with, your business will remain fresh in their minds when they need the products or services that you're offering.
Curating your social media content
Your posts need to be attention-grabbing and relevant. Here are the top tips and a few common taboos when writing for social media:
Don't go for the 'hard sell' – on social media, people generally have less time for disruptive methods that push a sales agenda. The most effective business pages focus on building rapport and adding value to their offering.
Some better ways of showcasing your products include providing photos of new products, profiling a popular product for the month, mentioning a current offer, or giving a behind-the-scenes look into your company or boost customer service levels. A really great social media platform for this sort of thing is Instagram
Get your message across with simple but snappy posts, keeping in mind that you don't want to overwhelm your readers by cluttering up their newsfeeds. Be concise and keep to the topic - but that doesn't mean you need to stifle your personality.
Keep your content dynamic. Make sure you're including regular updates, blogs and video. Regular updates will keep people coming back to find out what's new.
When you post new content on your website, a 'share' button linked to your social media pages.

Make sure you've got good SEO

Keywords – identify keywords that people are likely to use when they're searching for a business like yours.
Backlinking – this is a link on another website that links to your own. Google uses the number of backlinks to determine your ranking.
Mobile friendly – Google likes and rewards likes that look good and are fully functional when you view them on a smartphone.
AdWords – if you're erious about improving your ranking with Google you should consider Pay-Per-Click (PPC) advertising through AdWords.

Encourage and manage social word-of-mouth

Consumers are becoming influencers and thought leaders in purchase decisions their own right. Their voices are heard through social media channels, blogging, followers and fashions, so they can greatly impact the opinions of other potential customers.

Social media is a conversational tool by its nature, so encourage the conversation about your business, and its products and services to be a positive one. Encourage your customers to talk about your business, get them to enter competitions, profile what they do: anything to have them talk and 'like' your business.

Once people are talking, you need to manage the process so it's not random, or luck. Every day blog, comment, post content, take photos, share customer stories and be 'online' to increase the chance your online activity will encourage a sale or comment.

Make use of customer databases and selling systems

Find and implement a good customer database program. Use the leads you generate from social media and your website to create a database that captures as much information about your customers as possible.

Good customer sales systems manage and analyse customer interactions and data. The idea is that the better you can keep track of your customers and their buying behaviour, the better your business relationship with them will be, and the more customers you'll gain like them.

Your customer database, as part of a good sales system, should:

Capture the important data about your customers.
Remind you of key dates about specific customers so you know when to contact them, and why.
Identify where your customers 'live' on a digital level, so you can find them and engage with them.

Hubspot is a popular choice. This is an inbound-marketing solution that helps you engage prospective customers with landing pages, calls to action and personalised email.

Professional sales systems help with customer retention and driving sales growth. A comprehensive system means you can capture a wide range of information about your customers, enabling you to learn more about them.

Summary

It shouldn't be suggested that a digital marketing strategy should completely take the place of traditional methods, but if you don't have one in place you'll fall immediately behind the times and lose potential customers. Depending on what your target market looks like, you can team your digital strategy with other methods to maximise the amount of leads you're generating and converting into sales.

Next steps

The Digital Marketing Institute's cheat sheet for cost-effective digital marketing.
Lyfe Marketing's top 10 social media platforms for business – work out which ones best suit you.
Use our branch locator to find a branch, or call us on 0800 345 7365