Scottish angling business expands property portfolio
< back to all business news articles
24/07/2018
A Scottish angling business has purchased the retail park where its Edinburgh store is located, with support from Clydesdale Bank.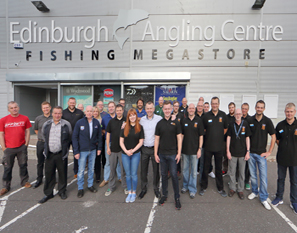 Glasgow Angling Centre expanded into Edinburgh two and half years ago, opening a unit in Granton Retail Park, near Leith Docks. The retail park, which consists of three units, recently went up for sale and owner, Paul Devlin, was keen to purchase the site to secure the future of his business.
He said: "Edinburgh Angling Centre has traded strongly since we opened and has been an excellent addition to the business. The two markets are quite different – in Edinburgh, there is a bigger focus on sea fishing as its right on the coast, while Glasgow has more canals and rivers, so trout and salmon fishing is more popular. It's been an interesting challenge to get the right mix of product for our customers and the feedback has been really encouraging.
"Expanding the business has been a key focus and being able to own our premises is an important part of our growth objectives. When Granton Retail Park was put up for sale, it was the right time for the business and I was in a position to be able to put in an offer."
Paul employs around 100 people and also operates two angling stores in Hull and Scunthorpe, as well as an online business.
He added: "Business is going well - with the Bank's support I have been able to continue to grow despite a challenging economy and I am always on the look-out for new opportunities."
Leigh Sutherland, Commercial Relationship Manager at Clydesdale Bank, said: "We are committed to working with SMEs to achieve their full potential and it's been great to work with Paul as he has grown his business over the last few years. Being able to own property has a number of benefits, including asset appreciation and security, so we were thrilled to provide funding for this purchase."