Bespoke steel fabrication firm eyes international growth on 30th anniversary
< back to all business news articles
24/05/2018
A business, which specialises in bespoke steel fabrication, has set out plans to grow its global presence as it celebrates its 30th anniversary.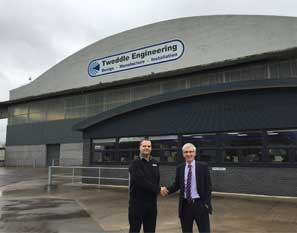 Tweddle Engineering was established in 1988 by 21-year-old Derek Tweddle when he spotted a gap in the market. Now employing a team of 45 and providing design, manufacture and installation services of bespoke engineering solutions; their customers benefit from the vast amount of experience which has been gained over the past 30 years. This has allowed the company to work in a wide range of industries including nuclear, renewable energy, construction, sawmilling, and over the last decade Tweddle Engineering has become the largest supplier of timber pressure treatment equipment in the UK.
With support from Clydesdale Bank, the business has recently opened purpose-built office space at its head office near Wigton, Cumbria, allowing Derek to increase his team and provide his current staff with an amazing new facility to work from. The main focus of the business is to increase the number of projects the company has in Europe, America and Canada and Derek knows as well as anyone that this can only be done with the right staff, which is why it was so important to move in to the new office facility.
Derek said: "From a young age I knew I wanted to run my own business and when I completed my engineering apprenticeship at 21 I decided to set up Tweddle Engineering. A lot has changed over the last 30 years – the team has grown, the machinery and technology has significantly improved and in 2006 we moved site to our current premises, which gave us more space and scope to grow the business."
All products are manufactured on site in Tweddle's 4,700m² covered workshop and its sister company, Cumbria Profiling Ltd, offers Laser Cutting, High Definition Plasma Cutting, Oxy Fuel Cutting, Etching, Surface Grinding, Rolling and Folding.
Derek added: "We operate all over the UK and in recent years we have been expanding into Denmark and Belgium, which has been an important step in our future growth aspirations. There are more opportunities for our services and products to be used globally so the opening of our new office space has been vital to ensure we are set-up to operate in these markets.
"I found the team at Clydesdale Bank, especially our relationship manager, Simon Campbell, really responsive and efficient when it came to providing support for our plans to expand our head office. It's great that the decision making can be done locally and can be turned around quickly – as a business that's what you need from your bank. We won't be standing still either - as well as growing the business, we will also be looking at how more complex machinery, integration of robotics etc, can help improve our products."
Simon Campbell, Commercial Relationship Manager at Clydesdale Bank, said: "Tweddle Engineering has a long history and an excellent reputation for the products and services it provides to its customers. Derek and the team are at the forefront of their industry and are continually working to ensure they can compete on a global scale. At Clydesdale Bank, we want to support our SME customers to ensure they have the opportunity to grow and reach their full potential and we are pleased to be working the team, most recently supporting the opening of their new office space."