Business Banking Insights - When revolution meets evolution
< back to all business news articles
17/12/2018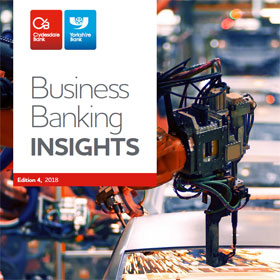 Welcome to the latest edition of Clydesdale and Yorkshire Bank's Business Banking Insights - the last for 2018.
It has been quite a year for our Bank. In October, we completed our acquisition of Virgin Money to become the UK's sixth-largest lender, creating a true challenger to the status quo in UK banking.
There's exciting times ahead too, as the SME banking market in Britain is set to change dramatically in 2019 thanks to the advent of two new initiatives designed to create greater competition in the sector, to benefit both customers and the banks which serve them.
Opportunities also abound for the UK as a whole. Our economy stands at the edge of what is being called the fourth industrial revolution, as new technologies including AI and augmented reality lie in wait to alter and enhance our industries. Adapting to these dramatic changes will be key if the UK is to remain competitive globally, alongside addressing some of the outstanding issues that hold back growth, including ailing productivity levels. The Government has created a plan to do this through the Industrial Strategy, which was launched a little over one year ago. In this edition, we assess the impact of the initiative so far and what more can be done to create a successful outcome for the UK and its businesses.
As always, we also profile a selection of the businesses we support at Clydesdale and Yorkshire Bank across a broad range of industries including aviation and manufacturing. Follow the link below for the full publication.
Business banking insights edition 4, 2018 (PDF, opens in a new window)