Make the most of business social media trends
< back to all business news articles
20/04/2018
With over two billion active social media users worldwide, you can be pretty certain that your target audience is among them somewhere. By connecting with those potential customers in a way that suits them, your business will remain fresh in their minds when they need the products or services that you're offering.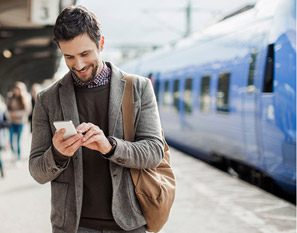 Staying up-to-date with social media trends can be an essential part of keeping in touch with your customers. But which trends should your business look at following?
Use live streaming to be interactive
Live streaming has started to make waves in social media marketing circles. With the emergence of Facebook Live and Periscope (among others), there are opportunities to interact with your customers while showing them your small business's world through your eyes.
Live streaming video is a fantastic way to interact with your customers in real time, meaning you can:
Run demonstrations and workshops.
Offer training, positioning yourself as an expert for a certain product.
Host interviews, offering personal ideas and opinions to increase engagement.
Share live events to let people who can't attend be part of them.
Be aware of growing trends
Some social media parallel trends include:
Rise of augmented reality and gaming
Maybe you're not quite ready to wear 3D goggles, but more and more people will be wanting to see real life demo's, instructions, stories and product or service specifications in a 'real' setting rather than a 20 page manual. Integrate higher definition demonstrations and gaming into your social media activity.
Influencer marketing
Where celebrities or well-known people can influence what people think and how they act. If you can find an expert in your industry, or a customer that's well known, to talk about and promote your business inside your social media channels, it could be better money spent than on traditional advertising.
Storytelling attracts leads
When it comes to gaining and retaining customers, it's not always about advertising. It's become just as much about providing useful content that leads to the sale of your goods or services.
Data driven storytelling is one of the most recent trends at the heart of using content to attract leads in order to gain paying customers. By embracing data driven storytelling, your small business will be able to:
Connect through stories that your clients find valuable or can relate to.
Keep your brand in front of its potential customers.
Offer a deeper understanding of the values of your bank.
There are a few essential narratives that work well when utilising data to tell a story. They are:
Trends – how something is increasing or decreasing over a period of time. Research on your industry statistics, or even better survey a customer set, or topic experts and report back on the findings. If you're seen as being ahead of the industry, it adds credibility and believability to your sales efforts.
Comparisons – how one business is performing compared to its competitors by ranking and commenting on price, customer segments, added services and geographical locations.
Surprising data – that challenges or confirms something that people think is true or false. Not many people would ignore the 'did you know?' heading that precedes a little-known fact.
Rank orders – telling a story about the ranking of the data in a table. How many people, the top five, or top ten (pick a number).
Encourage and manage social word-of-mouth
Consumers are becoming influencers and thought leaders in purchase decisions their own right. Their voices are heard through social media channels, blogging, followers and fashions, so they can greatly impact the opinions of other potential customers.
Social media is a conversational tool by its nature, so encourage the conversation about your business, and its products and services to be a positive one. Encourage your customers to talk about your business, get them to enter competitions, profile what they do: anything to have them talk and 'like' your business.
Once people are talking, you need to manage the process so it's not random, or luck. Every day blog, comment, post content, take photos, share customer stories and be 'online' to increase the chance your online activity will encourage a sale or comment.
Summary
Social media should be part of any marketing mix: it's a cheap, effective and easy-to-use marketing tool. It's one of the most common ways people talk about products and services. They talk about a great coffee they had at a particular café, or they moan about the awful service they experienced at their local garage. If you're not on social media, chances are you won't hear about these conversations. With a social media presence, you can listen to what customers are saying about your business, your competitors and your industry – and can step in and join the conversation if necessary.