Making sure your great business idea is financially viable
< back to all business news articles
07/05/2019
It's best to determine whether your business idea will make any money before you quit your job or invest your life savings. You can have a really great idea, but if it's not financially workable from the start, it's difficult to turn it into a successful business.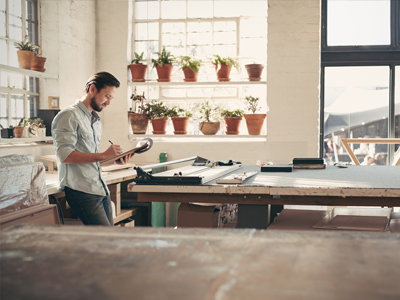 Work out your capacity
The first step to see if your idea is viable is to check capacity, so you know you physically can make enough product, or have the time to cover costs and make a profit. Let's assume that your business idea is a service that you're providing on your own. You're planning to work 40 hours per week, and you're charging yourself out at £50 per hour. So that adds up to £2,000 per week. But what if – when you calculated your start-up costs – your overheads are running £3,000 per week?
The answer is simple: your idea's not financially viable unless you change something.
It's the same if your business idea is retail-based. If your gross profit is 25%, and your overheads are £200,000 per year, you need to have £800,000 in sales (about £15,000 a week) to cover the overheads. Can you sell that much in a week? If not then either your idea is not financially viable, or you need to change how you've set the business up.
The next step is to look at what you can do to improve the viability at start up:
You can increase your charge-out rate (in the example an hourly rate of £75 per hour to would do the trick), or the price you've set on your product.
Work longer hours to increase your capacity, employ others to help you out, or contract in other businesses so you can make more.
Reduce overheads with cheaper premises (that plush office in the middle of town may not be the best first option), and review all of your monthly suppliers.
Reduce the number of full-time staff you had planned to hire, and your own salary at the start.
Reduce set-up costs and look for cheaper machinery and equipment, or investigate leasing instead of buying.
If you're not able to do any of the above, and your business cannot cover overheads, then it's time to think of another business idea.
Calculate what you need to sell week by week
Once you've worked out your capacity, it's time to work out if you'll generate enough revenue in sales to cover all your costs and make a profit. If you know exactly how much you need to sell each week, you will have a better understanding if it's possible to sell that much.
For example, if you're manufacturing coffee tables:
Cost of each table labour (£60) and materials (£40) equals £100.
You've decided on a salary of £50,000 per year, and the overheads for your business come to £40,000. So you need to make of £90,000 in sales.
If you decide to sell the tables for £200 (doubling what it cost you to make them) then you'll make £100 profit from each sale. You will then need to make 900 tables a year (£90,000 divided by £100 profit).
Assuming you'll take 4 weeks' vacation per year, divide 900 by 48. Rounding up, that's 19 tables per week. Do you think you can sell that many? Even more importantly, can you make that many?
Remember, this will pay your required salary, but there's no extra profit margin in there to grow your business. We've got a calculator that will help you crunch the numbers.
If you can't physically make this many tables, options are;
Find a way to work faster. Hire better machinery, invest in the latest technology.
Contract out components to another business.
Import components that are already partially built.
Make something else!
Regardless of your business, the same concept applies. Calculate out how many units, hours, orders or pieces of work you need each week to cover overheads and make a profit. Then see if it's possible. If you have a coffee cart and must sell 50 cups of coffee an hour to make money, and you can only physically serve 20 cups, then you're in trouble.
Summary
People will tell you that working out if your idea can make money includes things like market research, customer demand, working out your unique selling point and honing your competitive advantage. These are all true, but they're the next step on the ladder.
The first and most fundamental thing you need to do is crunch those basic numbers. Because if they don't add up, then all the rest is pointless. But remember that if the figures don't come out the way you'd hoped, it's not necessarily the end of your idea. There are always options for reducing your start-up costs, or increasing your product price or charge-out rate, in such a way as to make your idea financially viable. That said, it's important to keep your numbers realistic, because the whole point of the exercise is to work out if it's financially worth pursuing or not.
Next steps
Talk to a business advisor or another small business owner about your idea, and collect as much feedback as you can.
Head to our Start Up section for more resources on starting a business.
Use our branch locator to find a branch, or call us on 0800 032 3971.