Scotland Food and Drink Annual Conference – The World in 2030
< back to all business news articles
29/03/2018
We'll be toasting the success of our long-standing relationship with the Scottish Food and Drink sector at the annual Scotland Food and Drink Conference on Thursday 29 March. A range of experts will discuss the major trends in the sector, including the building of world class brands, innovation and a host of other topics.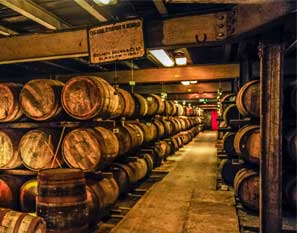 To celebrate our own commitment to Scottish Food and Drink, we've also produced, in conjunction with Scotland Food & Drink, the first in a series of four reports. The first report covers global markets and key trends in the Scottish Drinks sector.
Key trends
The report highlights some interesting trends beginning to take shape across the drinks sector:
Premium all round – the industry is seeing mass premiumisation, as more customers seek unique high quality products and are willing to pay more
Health conscious consumers – a rise in health-conscious drinkers means companies are doing more than ever with low-ABV and non-alcoholic drinks
Tech advances – online ordering, proliferation of choice, informative drinks apps and other content is changing the way customers discover drinks brands
Strong growth
The report also shows rapid growth across the sector, both at home and abroad. Gin is the star performer, growing 18% year-on-year and is making big strides within the premium brand space.
The Scottish drinks sector is growing and building for the future. There is an unprecedented level of investment in the Scotch Whisky industry especially, with 40 new distilleries at various stages of development. Exports increased to more than £4bn in 2016 to over 128 countries globally, showing the global presence of Scotch Whisky is stronger than ever.
Read the full report:
Distilled: Global Markets, Key Trends, and the Scottish Drinks Sector (PDF) (opens in new window)
Find out how we helped finance The Glasgow Distillery: