Startup stories - Sprigg
< back to all business news articles
17/01/2019
When Tom McDermott surveyed the food and coffee market of his native Glasgow, he thought something was missing. He had a vision for an outlet that could bring something new to the city's competitive marketplace and decided to take a leap into the unknown by starting up his own takeaway food and coffee shop – Sprigg.
Clydesdale Bank supported the venture by providing a significant funding package to help to get the business off the ground in August 2018. Since then, Sprigg has been met with rave reviews.
Just over 6 months into operations, we decided to catch up with Tom to get his take on the experience of getting a new enterprise off the ground and his tips on meeting the challenges of running a small business.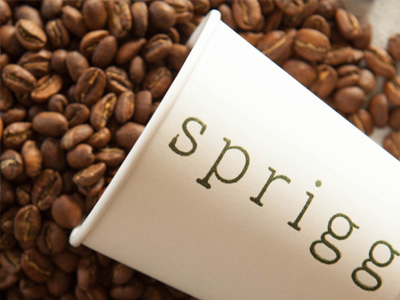 What is Sprigg?
Tom McDermott: "Sprigg is takeaway food and coffee done a bit differently. Fresh food bowls and outstanding coffee sit alongside one another as our two key products.
"Unlike other food/coffee providers across the city, we don't cover a large range of different products. This allows us to keep the food incredibly fresh (we order it the night before from our supplier and it arrives at 5am the next morning, for sale that day). It also means we can dedicate a lot of time to our coffee, a process which reaps big taste rewards when you put the time and skill into it."
What was your personal motivation to start a new business?
"Sprigg as a concept was formed to address a gap I feel existed in the food and coffee market of Glasgow city centre. It's a brand, ethos and product I felt Glasgow didn't have yet, but one that is seen all over the world. Basically, Sprigg is somewhere I know I would have gone had it existed when I was still working in the office world.
"A large reason for founding the business was also that I wanted to challenge myself to 'start again' - to do something I was completely new to and put myself back to being a complete novice in my work life. I chose hospitality because I love the social interaction with customers, the physical demands of running around all shift and the fast paced environment."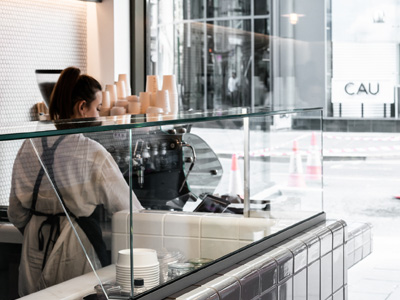 How has Glasgow responded to Sprigg?
"We've been blown away by how much people enjoy what we are doing. Our customers love both the food and coffee and post about us constantly on Instagram. People want to show they've been to visit us and that's amazing. We've brought something new and different to a crowded lunch market and the response has been brilliant."
What core lessons have you learnt about setting up your own enterprise?
"With hindsight, I would have planned and budgeted for sales at the business taking time to build. It seems crazy to me now that I'd have done this, but I naively projected we'd sell as much in month 1 as we would in month 3. In reality, it takes time for people to find your business or to become regulars. Our sales in month 3 were up 40% on months 1 and 2 and in month 4 we took double what we did in month 1.
"I should have allowed time in my forecasts for word to get out and for sales to build. It's basic, but being unrealistic about it could have ended the venture before we'd even properly started, so being more cautious about that initial cash flow is absolutely something I would have done differently."
You have active social media channels for Sprigg, how important do you consider digital marketing (such as social media) to be for small businesses?
"Its importance will vary depending on what type of business you are but I would say that social media is so important to Sprigg that without it, we wouldn't still be here. Instagram in particular is crucial in providing us free marketing. Our customers post a picture of their lunch or coffee and anywhere between 10 to 100 of their friends/followers engage with that post. That can happen 5 to 15 times a day. We've not spent a penny on Instagram's additional services and haven't paid any bloggers yet we still regularly reach thousands and thousands of people a month."
What advice would you give to any would-be entrepreneurs who have thought about establishing a fresh food outlet?
"Be 100% confident in your ability to put in the hours, I did 120 hours a week for the first two months. If you are in a relationship and/or family time is key, you need to prepare them in advance for the sacrifices they too will have to make."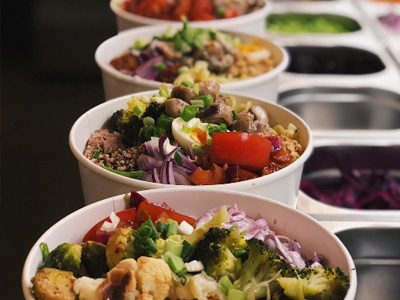 You sought the advice of people who had already found success in breaking into Glasgow's competitive food industry. How important was it to have a mentors during the process of establishing your business?
"Absolutely vital. I had more than one mentor and actively decided when I was planning Sprigg to seek mentors out. I quickly learned that established support routes like Business Gateway weren't for me, I wanted to be speaking to those who had been there and done the hours and jumped the hurdles.
"Before Sprigg launched I picked the brains of 3 excellent and long running small business owners multiple times. You've got to make the connections and be prepared to say 'can I buy you a coffee in return for some advice?' - I'm blown away by the support and time I got from people I barely knew."
What are your key ambitions for the business?
"I see Sprigg retail evolving in one of two directions, we can do a 'sit-in' concept for a second store or go uber 'convenience' with pre-made bowls in a concession style business model. Another big market to explore, when the time is right, will be corporate catering. We've already had several requests."
Why did you choose Clydesdale Bank?
"I chose Clydesdale as I knew the Bank ethos is to support and invest in the Scottish communities they operate in. I wanted Sprigg's beginnings to be rooted in Glasgow and this extended as far as the financing source. Using Clydesdale means I can easily reach who I need. Debbie Gray, the Business Development Manager who set up the financing was outstanding, she brought all the benefits I hoped to find by banking in the same geographical market I was going to setup in."
Do you have an idea for a business that you want to get off the ground? Find out what we can offer you by clicking here.