We understand tooling finance
Our tooling finance supports your investment in tooling development and helps you secure the additional finance to bridge the gap between the initial investment in a new product and the returns you eventually make. We can lend as much as 100% of the finance you need which means you could win new business, safe in the knowledge you have the funds to take it on.
Subject to status and eligibility. Security may be required. Please refer to the Important information section.
Rolling tooling finance
We could give you access to funding, as and when you need it, to help you finance the next generation of tools and manufacturing techniques. That means you won't have to apply for funding every time a new design and tool is needed, or a custom-built component is required to fulfil a contract. This could help you make the most of every opportunity to build long-lasting relationships with your customers.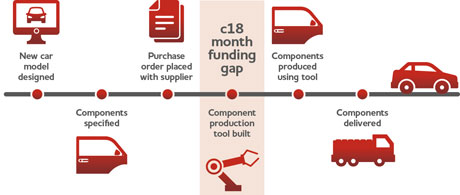 Repayments designed around you
When you're investing so much upfront in the manufacturing process, a little help with repayments can make a big difference. That's why we can base your repayments on your cashflow receipts - to benefit your working capital management and helping you to invest in future growth of your business.
Our industry specialists are here to help
Our specialist automotive team has extensive experience of working across the supply chain and really understand sector dynamics. So when you need to move fast to win a deal, they'll know exactly what's required.
Drive your business forward with us
As a customer, you could also benefit from our full range of banking services - from Asset Finance to Trade Finance, Invoice Finance to Treasury. Talk to one of our experts today.
Important information
Terms and conditions apply. All facilities are subject to status and eligibility. Over 18s only. Fees may apply. Please note that security may be required. Any asset used as security will be at risk if you break the agreement and may be sold to repay your debt. The products described may not be suitable for all requirements and circumstances. In accordance with its Terms of Business, the Bank is not providing advice in respect of these products. In addition, the Bank only provides information on the products, services and transactions provided by it or a member of the Bank's group. It is your responsibility to seek any financial, tax and/or legal advice that you require. Any decision to enter into a transaction with us is on the basis that you have made your own assessment, with or without additional professional advice, of the suitability of the product for your requirements.