Award-winning Scottish rum business set for fresh growth
< back to all business news articles
30/09/2019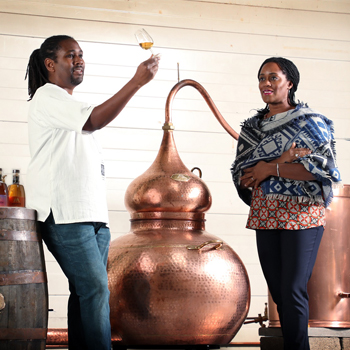 When it comes to Scotland's drink industry, whisky is the spirit most often associated with the country's alcohol producers.
However, a newly-established rum business, kick-started by a husband and wife team with support from Clydesdale Bank, is aiming to change the dialogue and inject some African and Caribbean flavour into the nation's pubs, bars and retailers through their innovative brand.
Based in Livingston, to the West of Edinburgh, Matugga Distillers Limited is one of Scotland's first rum distilleries, producing a multi-award-winning range of artisanal golden, spiced and white rums. It was set up by a couple with African and Caribbean heritage, after they spotted a lucrative gap in the market.
Handcrafted in Scotland, and aligned with the country's renowned distilling heritage, their products are distilled in 200-litre copper pot stills in the Jamaican rum-making tradition to achieve full-bodied flavours.
"It's a very niche trade in Scotland," says Jacine Rutasikwa, the business' Director and Co-founder (pictured with her husband Paul at their distillery). "Most people in the UK are launching whisky, or gin brands, the latter of which, in particular, we see as a highly competitive and saturated market.
"Our thing has always been rum. Back in Jamaica, where my family hails from, rum is our national spirit. It's an integral part of our culture. It's often involved in how we socialise and celebrate, how we cook and how we bond. Our brand pays homage to that cultural affinity while showcasing flavours of Africa."
Rum's popularity is growing. According to the Wine and Spirit Trade Association (WSTA) the total value of rum in the UK is over £1 billion, with almost 35 million bottles sold in 2018.
Building a new rum brand from scratch was always a step into the unknown for the pair, especially given their career backgrounds. "I was working in B2B marketing within financial services and the mining sector before this, while Paul is a civil engineer by training," Jacine said. "We moved to Scotland two years ago from London. Paul took a course in brewing and distilling at Heriot-Watt University – one of the best institutions and courses in the world for learning the trade. This set the stage for making our ideas into a reality."
Jacine registered the business in Spring 2018, culminating in the launch of their first distillery in October the same year.
Bold steps forward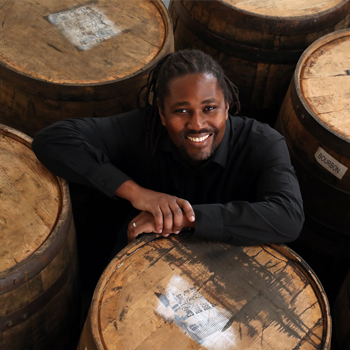 As in many newly-established businesses, the founders currently manage operations entirely between themselves, including the guided distillery and tasting tours, which Co-founder and Head Distiller Paul (pictured) hosts on-site. However, in anticipation of higher demand, they're developing a new growth strategy.
Paul said: "We've proved the concept works. Now, it's time for us to scale-up. We're looking for an assistant distiller to support me, as well as new recruits for marketing, sales and business support roles. We want to build a team of six over the next three years, plus buy new kit to boost production capacity."
Matugga Distillers currently sell their diverse range of rums to Scottish bars, restaurants and supermarket retailers including Co-op outlets, leveraging a strong network of distribution partnerships, yet there's plenty more to come.
Jacine said: "The gin-craze we've seen in the UK over the past few years is not ubiquitous. Some countries, including France, have a big penchant for rum instead. So we've established distribution networks there too, but we also want to grow our presence in East Africa and North America."
Acclaim and recognition
In September 2019, Jacine won the start-up of the year category at the Women's Enterprise Scotland (WES) awards, sponsored by Clydesdale Bank, which recognised her key role in driving the business' growth as Director. "It was a surreal, but hugely significant moment for our business," Jacine recalls. "It was wonderful to be recognised. The win gave me a chance to pause and reflect on what we've achieved in a short time-frame. There's no guidebook for what we're doing, as making rum is novel in Scotland, but the win helped remind us we're on the right track."
Our support
Clydesdale Bank aided the business with a £50,000 commercial loan, to help it establish its first distillery. Our Small and Medium Business Director, Sue Douthwaite, commented: "Jacine's win in such a hotly-contested category at the WES awards was well deserved. In her capacity as Director, it was her strategic vision that was vital in paving the way for the company's impressive rise. The victory is a testament to the innovative ideas behind the business and their successful execution.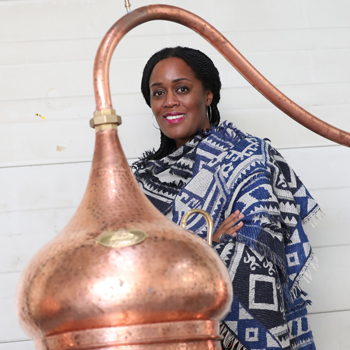 "Getting a new business off the ground is tough, but when a company is aiming to disrupt the status quo and produce something different for the local market, it can be even tougher. Yet Jacine proved this approach can pay off. We wish them the best of luck and look forward to developing our close working relationship with them."
Speaking about working with our Bank, Jacine said: "A contact had told us Clydesdale lends to new start-ups and young businesses. Other banks we spoke to didn't have the same appetite, so talking to them was a breath of fresh air in comparison.
"We've appreciated their holistic approach to lending and want to further the relationship. The human support side of the Bank was so important in helping us get started."
Committed to Scotland's food & drink industry
Find out more about how we're supporting companies in this thriving sector, which is now worth almost £15 billion to the country's economy. Follow the link here.
Supporting businesses
To find out how we can help* your business grow, follow the link here.
*Products and services subject to status and eligibility. Security may be required.
Photography: Stewart Attwood.