Startup Stories – Four Seasons Campers
< back to all business news articles
23/08/2019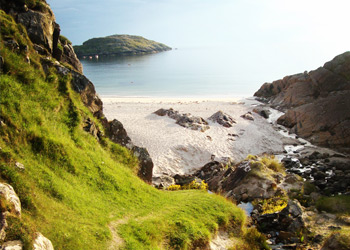 Scotland boasts some of the most beautiful and diverse landscapes on earth, ranging from the wild and untamed highlands to the remote reaches of the Outer Hebrides.
Its renowned picturesque quality is one of the reasons the country's tourism scene is exploding. Thanks to recent high praise from Rough Guides and Lonely Planet (the trusted tomes for many seasoned travel enthusiasts), interest has been growing.
Off the back of her desire to visit Harris in the Outer Hebrides, entrepreneur Liz Mackenzie-Mavor quickly developed a business idea and Four Seasons Campers was soon born.
Liz, who is a Clydesdale Bank business customer, shares her tips on running a successful travel business and more below.
What is your business all about?
Liz Mackenzie-Mavor: "We are an all-inclusive luxury camper van hire business based in Loch Lomond National Park, an area famed for its natural beauty that draws travellers from across the world.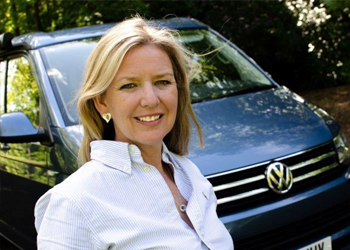 "We offer tourists from around the globe a personalised and comprehensive camper van service, with high quality vans and tailored in-depth guides to create the road trip of a lifetime. We back this up with 24/7 customer support giving them confidence in navigating Scotland and camping in style.
"People come to us wanting an adventure but can be wary of some of the pitfalls of hiring a camper van and going it alone, which is why we're there to hold their hand throughout the process.
"We aim to establish a premium brand within the Motorhome and Campervan rental industry that is synonymous with customer care and value for money at the premium end of the market place."
What was your inspiration for starting your business?
"Whilst I was thinking about the trip to the Outer Hebrides, I wondered about the current options for people choosing this way to travel and asked myself: If I was a tourist on a campervan excursion, what kind of experience would I want?
"On closer inspection of the industry, it seemed like many customers were being given quite a limited service. I decided, given the current tourism boom, there was a prime opportunity here to create a business that put the customer first and went the extra mile to make their trip special.
"In April 2015 I bought a large white motor home, with a view that this would be like a luxury hotel on wheels, however I soon realised that a vehicle this size was not suited to Scotland's single-track roads and tourists unused to driving this size vehicle found it difficult. So the following year I added to the fleet with brand new VW campervans instead, as they offered the perfect balance between luxury and camping and a great size, as well as being easy to drive on Scotland's winding roads."
How did the business grow from there?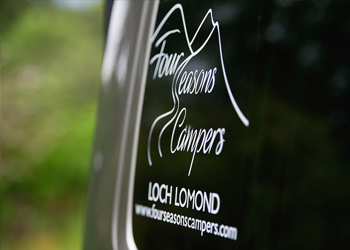 "I realised that there was also a demand for purchase of ex-hire vehicles and our 'try before you buy' customer makes up around 40% of our hirers who dream of their own camper. Our business model proved effective, and soon our bookings and sales of ex-hire campers rose rapidly.
"With Clydesdale Bank's support, we've been able to double the number of vans in our fleet year-on-year, growing turnover. In 2019, I was looking to buy three more and Clydesdale supported with a match-funded loan of £50,000 alongside Business Loans Scotland.
"With so much happening so quickly, I then decided to take on three brilliant staff to manage our growing number of customers.
"This year we also launched a campsite and ferry booking service too, so people don't have the hassle of having to do it themselves."
As a self-made entrepreneur, what advice would you give others who want to set up on their own?
"Running your own business means initially you have to put in the hours until you have grown to a scale that you can afford to get someone others to assist you with the operational side, allowing you to focus more on the business development side. You then have to be a great motivator and leader to ensure that your high standards are kept by your staff.
"Choosing the right staff is key to success and the main thing I looked for when hiring was the right attitude. I am really lucky to have hired three staff that care very much about my business succeeding and about our customers having a fantastic holiday."
In hindsight, is there anything you would have done differently in the way you ran the business?
"Taking on the new staff as a start-up and setting up the systems and processes for them has been tough. Whilst I had planned for a bedding in time and training, I found in reality that with all the other growth happening in the business and getting the finance ready for all our new vans, I didn't have time to set up all the training as I had wanted which meant people learnt on the job and without as much guidance as I would have liked. With hindsight I might have started them earlier in the season."
Why did you choose Clydesdale Bank to help you?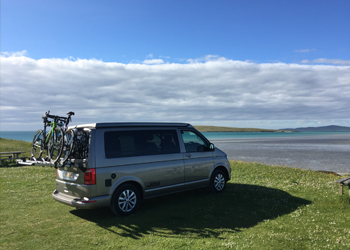 "I found my previous bank wasn't very supportive in helping my business to grow. A business advisor recommended Clydesdale for its personal service, as a lot of their clients had made the switch.
"When I need help and call, I get someone in Glasgow who is friendly, helpful and supportive. In the same way that we're keen to go the extra mile when our customers have questions, Clydesdale offered the same to me with its support network.
"I've now moved my personal banking to Clydesdale as well as I've been so happy with the service. They have made quick decisions and have always been on hand to talk through my plans. The close support has been stellar."
How important do you consider technology such as social media platforms and apps to be for small businesses?
"Embracing online platforms is so crucial for small businesses these days and we're no exception. With a non-existent marketing budget as a start-up, I have grown the business by focussing on Search Engine Optimisation and have received lots of support from Digital Scotland on training on social media.
"I set up the website and continue to maintain it at the moment myself and I have attended a series of digital events that Love Loch Lomond put on in the initial years of the business. We're currently building our audiences on Instagram, Facebook and Twitter channels to generate awareness. It's very important for us as a way to reach out to our customer base and gain new customers too.
"Aside from digital marketing, we're also looking to develop a camping booking app which will be unique to the UK and are hoping to start testing our assumptions this year so that we build the right platform for the camping and campervan market here."
What are your key ambitions for the business?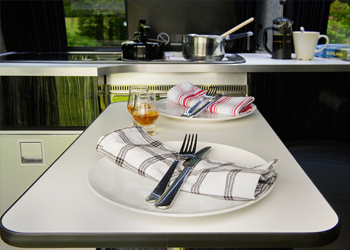 "We aim to expand our fleet and operate with an additional location near Edinburgh airport by 2020, to increase our European customer base.
"We want to develop our marketing reach into the USA and Canada too. This is a highly lucrative market with customers who really value 5-star service, which is where we really stand out from our competitors. They also tend to spend longer periods of time on their Scottish road trip, as it tends to be a once-in-a-lifetime experience, which is better for our margins."
Helping your growth
Whether you're expanding your fleet like Liz, looking to purchase new premises, or are seeking cash flow solutions, Clydesdale Bank has a range of *products and services to suit your needs as a business owner.
Find out more here.
*All products and services are subject to availability. Security may be required.