Supporting social care across the UK
< back to all business news articles
22/11/2019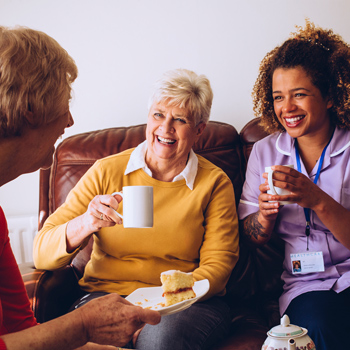 At Clydesdale and Yorkshire Bank, we have an established skill set in supporting businesses that operate in the UK's Health and Social Care sector.
Our national team of sector specialists in Health and Social Care have a deep knowledge of the industry and only support customers in the sector - understanding the sector risks in more detail and bringing that insight and experience to each customer interaction.
To know the sector, we stay close to the sector. That includes engaging with its key stakeholders. We do this to make sure we're aware of the key challenges and opportunities for the industry's businesses.
Scottish Care is one such stakeholder, and this year we proudly supported the annual Care Home Conference and Exhibition. The annual event brings together leading voices from across Social Care in the country.
Facts on the industry
According to Scottish Care's latest report - Essential Care, launched on the morning of the event, and which looks at the critical role of care homes in the country, Scotland's independent social care sector contributes to:
The employment of over 103,000 people, which is more than half of the total social services workforce, including approximately 5,000 nurses.
The provision of 88% of care home places for older people.
The delivery of over 55% of home care hours for older people.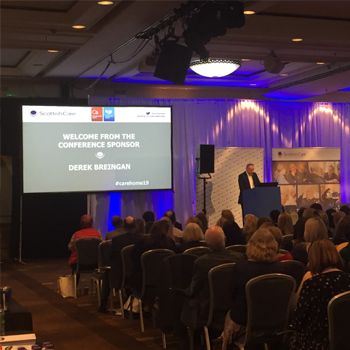 To give a sense of the scale of the industry, the report states: "The adult social care sector in Scotland contributes a massive £3.4 billion to the economy, directly through the value of goods and services it provides and purchases as well as through the indirect and induced impact it has, for example in enabling unpaid or informal carers and relatives to remain in employment.
"Its direct economic impact, measured in terms of Gross Value Added (GVA) at £2.3 billion, makes it a larger contributor to Scotland's economy than sectors such as agriculture, forestry, fishing, the Arts, entertainment, recreation and waste management."
This shows just how important social care is to Scotland's economic health – its contribution cannot be understated.
Speaking at the event, our Bank's Head of Health and Social Care, Derek Breingan, said: "Care homes are essential to our society and our communities. They provide a very valuable support for vulnerable people and they are vibrant, interesting and rewarding places to work. We're delighted to sponsor this event and social care as a whole.
"We need care homes and we will need more of them – as places to live and work. They are essential. That's why we are pleased to support Scottish Care."
Taking action
We don't just talk the talk when it comes to business lending* to help care home businesses grow.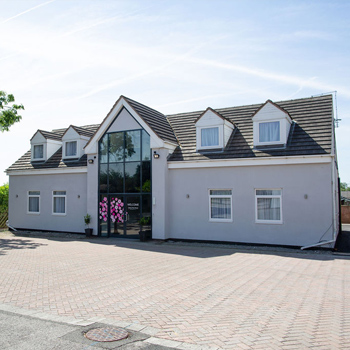 Our team has been hard at work this year completing a slew of deals with care home developers and operators in the industry, boosting their capacities and financing their expansion. Take a look at some of our recent stories below:
Recognition of our efforts
The HealthInvestor Awards are well known as a key event in the calendar for stakeholders engaging with Health and Social Care firms around the UK. This year, our Bank scooped the Bank/Lender of the Year prize. Check out our blog for more details.
Our view for the future
Care homes will become increasingly crucial for our ageing population with the rise in longevity and increasing ability to live with complex medical and physical conditions. The diversity of the Scottish demographics and the geography of our country also add an element of challenge. We stand ready to support care home developers and operators throughout these demographic shifts.
*Products and services subject to status and eligibility. Security may be required.