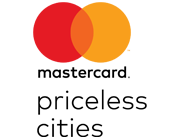 Priceless Cities is a programme available exclusively to Mastercard® cardholders, providing access to purchase unforgettable experiences in the cities where you live and travel.
There's a world of possibilities waiting for you to explore, so why not break free from your routine for a moment, a night, or even a weekend? Previous experiences have given cardholders the opportunity to see the pride in their child's eyes when they stand up on a surfboard for the first time, or their smile when they meet their favourite athlete. You might get the chance to rediscover your love for cooking – or music. Or both.
Time is the most precious resource we have, so Mastercard's mission is to provide you with opportunities to have meaningful moments with the people you care about.
Fuel your passions. Make memories to last a lifetime. Start Something Priceless.
Find out more , sign-up and receive regular updates to ensure that you're the first to hear about the latest exclusive experiences from Mastercard. Terms and conditions apply.