Signature Current Account
We go further for our customers and now we've won an award to prove it. Our efforts were recognised when we became the Moneyfacts Best Current Account Provider.
With our Signature Account, you get year-round family travel insurance and UK breakdown cover, as well as phone and gadget insurance. There's also ID Defender, plus discounts on certain high street stores, supermarkets, holidays and events.
Please note, from 25th September 2020, you'll no longer be able to access discounts on My Signature Rewards (provided by Sodexo).
The banking part? You'll have a contactless debit card, as well as Apple Pay and Google Pay. You can manage your money using internet banking – or use touch ID to log into your mobile app.
All for £13.50 a month.
Applicants must be 18 years or over. Terms, conditions and exclusions apply to all insurance policies and services. Full details are included in all policy documents. £13.50 fee to maintain the account. Other fees and charges may apply.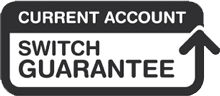 Flybe has confirmed that it has entered Administration on 5 March 2020 and all flights have been grounded. This means that all flights provided by Flybe have been cancelled and are no longer operating.
If you are a Flybe customer, you are advised to make your own alternative travel arrangements via other airlines, rail or coach operators.
There is no cover provided for this event under the travel insurance policy provided by the Signature Current Account. However, please check the information below as you might be entitled to claim.
Booked with an ATOL holder (Package Holiday)
If you have booked flights or a trip that includes flights with a travel firm that holds an ATOL (Air Travel Organiser's Licence) and received confirmation that you are ATOL protected, the travel firm is responsible for your flight arrangements and must either make alternative flights available for you so that your trip can continue or provide a full refund. If you are abroad, it should make arrangements to bring you home at the end of your trip. Contact the ATOL travel firm for more information.
Direct booking with an airline
If you booked directly with Flybe and paid by credit card you may be protected under Section 75 of the Consumer Credit Act 1974 and should contact your card issuer for further information. Similarly, if you paid by debit or charge card you should contact your card issuer for advice as you may be able to make a claim under their charge back rules.
Booked through an airline ticket agent
If you booked your ticket through an airline ticket agent, you should speak to the agent in the first instance; they may have provided travel insurance that includes Scheduled Airline Failure Insurance (SAFI) or taken out their own SAFI cover which will enable them to refund or cover the cost of a new ticket to get you home if you are currently abroad. If you did not book directly with Flybe and purchased your tickets through an intermediary, you should contact your booking or travel agent in the first instance.
If you are abroad, or have a future booking and have not yet travelled and require additional information or assistance, please contact the Administrators by phone on 0207 951 7801 or by email at flybeadministration@uk.ey.com.
The UK Civil Aviation Authority is proving further advice and information via their website, for more information please visit www.caa.co.uk/News/Advice-to-UK-consumers-following-Flybe-entering-administration.
Coronavirus Update
As of 11 March 2020, the World Health Organization (WHO) declared coronavirus (COVID-19) a pandemic. As of that date, COVID-19 is considered a foreseen event. Because of that, certain cover on your travel insurance policy will not apply.
Specifically, any losses for trips booked or Signature Current Accounts opened after 11 March 2020 relating to trip cancellation, trip interruption and/or trip delay caused by coronavirus (COVID-19) is not considered 'Unforeseen'. That means it won't be covered under the terms and conditions of your Signature Current Account travel insurance policy.
Coronavirus related claims will be considered for any element of travel booked, or Signature Current Account opened, on or before 11 March 2020, subject to the policy conditions and Foreign and Commonwealth Office guidance. Any element of your trip booked after this date will not qualify for coronavirus (COVID-19) related claims.
If you have booked to travel and now need to cancel as a result please speak to your ATOL-protected tour operator, your cruise provider, airline or accommodation provider in the first instance. In many cases, you will be able to re-arrange or get a full refund on your trip.
For more information on how the coronavirus may impact you, please visit our dedicated coronavirus travel support centre.
You can contact the insurer, AIG, in the normal way if you need to make a claim.
(Lines are open Monday to Friday between 8am and 8pm and on Saturdays and Bank Holidays between 9am and 5pm.)
UK Breakdown
During the current coronavirus outbreak our breakdown provider Green Flag are taking additional steps to keep customers and roadside technicians safe and to ensure they can continue to provide their service when you need them.
To find out more please visit the Green Flag blog.
If Green Flag telephone lines are busy during the coming weeks you can request a Green Flag breakdown rescue using the Green Flag app.
Brexit Update - Travel Insurance
If you're planning a trip to a European country in the next few months, you might be wondering if everything will go according to plan in the event that the UK leaves the EU.
The UK government and the European Commission have said that everything should continue to run as normal, including your flights. But if you do need to make a Brexit-related claim, we're here to help.
What happens if your baggage is delayed?
Your cover will work in the usual way, please double check the terms and conditions in your policy.
What happens if you have to pay for medical treatment while you're away?
Your cover will work in the usual way. Your policy doesn't require you to have a European Health Insurance Card (EHIC) so even if EHICs aren't valid after Brexit, your policy and coverage will stay the same.
What happens if your trip is cancelled, cut short or you miss your departure?
Your travel insurance works on a 'named perils' basis. That means the insurance protects you against the problems or events specifically named in your policy.
Brexit isn't one of these, so you won't be covered if a Brexit-related event means you have to cancel or cut short your trip, or if you are delayed or miss your departure because of it. This includes if you are not able to get the passport or visa you need for your trip, so be sure to check yours is valid as soon as possible. You can head to www.gov.uk for lots of helpful information on this.
What happens if you experience any other problems?
If you (or any other person covered by this policy) are unable to complete your trip because of reasons out with your control and these reasons fall within the conditions of the policy, your cover will continue as normal.
Changed your mind?
You can cancel your policy within 30 days of opening your Signature Account.
Here to help
Every claim is handled on a case-by-case basis, according to your policy's terms and conditions.
If you have any questions about travel insurance and Brexit, please contact AIG Travel on 0345 602 7453 or clydesdalebanktravel@aig.com.
---