Opening a new current account with Clydesdale Bank is straightforward. You can either switch safely from another provider or open up a brand new account. Either way, we are here to help you.
It's only a few simple steps to open a new account or to switch. Whether it's your first account or you're switching accounts from another bank, we'll guide you through every stage. Our range of current accounts means you can choose the type of banking service that suits you.
Opening a joint current account
Opening a Clydesdale Bank current account with someone else is straightforward. We will guide you through each stage and you will be able to choose from any of our current accounts. However, both people who wish to open the account have to complete the application. If you are an existing current account holder who wishes to change to a joint account, you can speak to us about arranging this.
Once the account is open, each person will get a debit card and the option of a cheque book. Each of you can make withdrawals, write cheques, apply for an arranged overdraft or use cash machines without needing the approval of the other.
Things to consider:
When you open a joint bank account you're putting your trust in the other account holder – so be sure you know them well
Either party could withdraw the entire balance in the account. Withdrawals can be made by debit card, cheque book or telephone / internet / mobile banking
Either party could request an arranged overdraft without the knowledge of the other party. It is important to remember that both parties are liable for all debts on the account and not just a share. If there is money owed we can ask any one of the account holders to repay the whole amount individually
If you would like a cheque book, you can ask that the both your signatures are needed to authorise payments
Individuals are protected up to a total of £85,000 each (£170,000 total) by the Financial Services Compensation Scheme, the UK's deposit guarantee scheme.
This limit is applied to the total of any deposits you have with the following: Clydesdale Bank, Yorkshire Bank,B and Virgin Money. Any total deposits you hold above the limit between these brands are unlikely to be covered.
The Current Account Switch Service
If you already have a current account with another bank, it's straightforward to switch to Clydesdale Bank. With the Current Account Switch Service: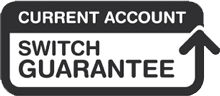 We'll switch your account to us within 7 working days, and on a date that suits you
You're covered by the Current Account Switch Guarantee when you fully switch.
We'll keep you informed during the process
More information on the Current Account Switch Service.
Opening your account by phone
If you open your account by telephone there's no need to send in identification as we'll verify your identity electronically.
To apply by phone call 0800 678 1230
Or if you're abroad / outside the UK +44 141 952 6827
We're here
Mon-Fri 8am - 8pm
Sat 9am - 5pm
Sun 10am - 5pm
For your security calls may be monitored or recorded.
Opening your account in branch
If you open your account in branch we'll ask you to provide some identification. Find out what ID we accept (PDF, opens in a new window). We may accept other forms of ID. Ask your local branch for more information.