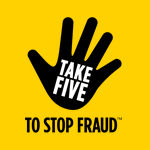 How you can protect yourself from fraud
Criminals use a wide range of methods to commit fraud and scams so to keep yourself safe follow these five rules –
Never disclose security details, such as your PIN, full banking password or one time pass code to anyone even bank staff.
Don't assume an email, text or phone call is authentic
Don't be rushed – a genuine organisation won't mind waiting
Listen to your instincts – you know if something doesn't feel right
Stay in control – don't panic and make a decision you'll regret
Follow the simple rules of –
Stop – Taking a moment to stop and think before parting with your money or information could keep you safe.
Challenge - Could it be fake? It's ok to reject, refuse or ignore any requests. Only criminals will try to rush or panic you.
Protect - Contact your bank immediately if you think you've fallen for a scam and report it to Action Fraud.
Take five to stop fraud
.