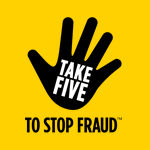 How you can protect yourself from fraud
If you stop and think about it, you already know how to beat financial fraud.
It's just that in the heat of the moment, when you feel pressured, you panic, and it's easy to forget how to protect yourself.
That's why our message is so simple: Take time to think; Take a deep breath; Take back control; Take five to stop fraud.
Knowing how to spot the latest fraud types helps you to keep your money safe.
Find out about how to bank safely online and protect your personal information.
Find out about how to keep your cards and PIN safe and register for services to shop safely online.
Find out how to protect you business from all the latest types of fraud and where to learn more.
Find out more about protecting yourself and the leading industry websites to find out more.